Register Domains Select language
Check and register your domain name quickly and easily register for your Internet web page Please fill in the form
Select the language:
Free and without registration.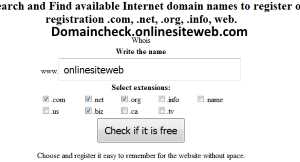 It is important to have a name on the Internet to sell product or services offering plumbers, electricians, carpenters or simply create a shop to sell crafts. Introduce and use your website to your needs most importantly it easy to remember.
Here you will find if available recording the most used domain such as .com, .net, .org, .info, web.